Experience Top Performance & Luxury for Four Occupants in the Koenigsegg Gemera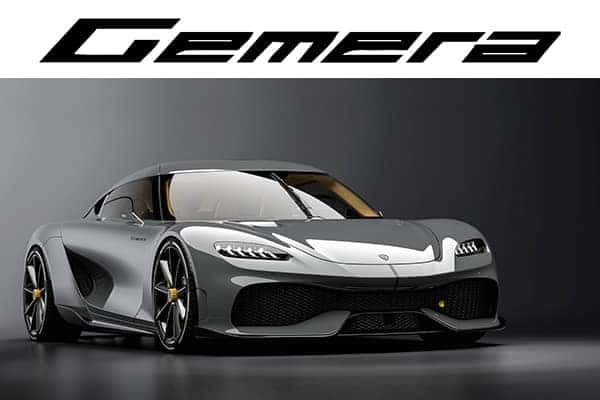 Give the Joy of Elite Performance to Four Occupants
A rarity in the hypercar and megacar fields, the Koenigsegg Gemera allows up to four passengers to experience what a truly sensational ride should feel like. Labeled as a "Mega-GT", this unique vehicle packs the same envelope-pushing speed and high-end luxury that any modern Koenigsegg model promises. Add on the exclusive element of the legendary brand and driving around Colorado in the Gemera will be an experience that can't be achieved through any other vehicle brand on the road today. Koenigsegg Denver is the only dealer in Colorado and surrounding states where you have the opportunity to order a premium vehicle like the Gemera, so contact us today at (303) 470-7000 for more information!
The Elements of a Special Four-Seater Megacar
Exceptional Overall Performance – Equipped with a 1700-hp hybrid powertrain, the Gemera is a street-legal vehicle that is designed to deliver an experience unlike any other. Uncompromising acceleration meets tight and responsive handling capabilities to ensure that every trip behind the wheel of the Koenigsegg Gemera is memorable. The Gemera is also unique in that taking on a local track day can be experienced by multiple people! With full-time AWD handling, the Gemera is also a capable everyday Colorado cruiser when required.
Regal Exterior Design – When people on the street or at the track see and hear the Gemera drive by them, their attention will be fixated on its beauty. Smooth lines not only improve the performance of the Gemera but also gives the Mega-GT a sleek appearance that will stand out from the traffic around it. With the unique dihedral doors inviting passengers into the cabin, the Gemera is class exemplified. 
Top-Notch Interior Quality – To go along with superior performance and a special exterior, the inside of the Gemera treats all four passengers to a premium ride. Only the most upscale and comfortable materials are used in the cabin to promote the elite atmosphere the Gemera is designed to provide. Memory foam is found on the seating to ensure every passenger has optimal comfort, while heated functionality is welcome on cold days. Dual wireless smartphone chargers and specialized drink holders that can be either heated or cooled add diversity and convenience to the four-seater as well as an all-around superb ride that every occupant will appreciate.