Koenigsegg Gemera Available to Order in Colorado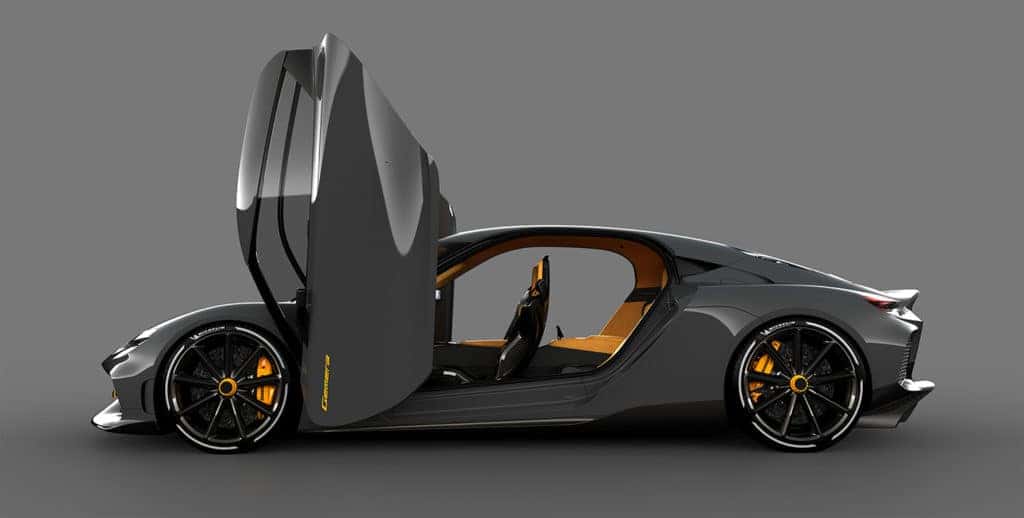 Koenigsegg Gemera
BASE MSRP: est. $1,700,000
Total Horsepower: 1700
Get to Know the Koenigsegg Gemera
Koenigsegg is already the gold standard for pushing the envelope of sportscar and megacar design. Now, they are setting their sights even higher by allowing up to four occupants to experience the astonishing speed and precision that they are known for. The Koenigsegg Gemera is described by the company as the first-ever, "Mega-GT", and makes the unparalleled ride of a Koenigsegg available for friends and family to enjoy. Everything that pushes other models from Koenigsegg into the stratosphere of superiority is present in the four-seater.  
Koenigsegg Gemera Trims
One trim for the Koenigsegg Gemera will be made, but it will be everything that eager customers hope for. Packing unbridled performance from its innovative hybrid powertrain, the Gemera will bring new meaning to an exhilarating driving experience. With this being the brand's first four-seater configuration, passengers can also expect top-end functionality and comfort inside. Taking the Gemera around Colorado with up to three additional passengers is an experience that can't be found elsewhere given the envelope-pushing performance and luxury of the Koenigsegg. 
Koenigsegg Gemera: MSRP from est. $1,700,000
Performance
The unique hybrid configuration of the Koenigsegg Gemera is what makes it unparalleled to other high-end sports sedans and sports cars. A twin-turbocharged three-cylinder Internal Combustion Engine leads the performance with 600 horsepower. Accompanied by three electric motors that combine to generate an additional 1100 horsepower, the total of 1700 hp creates a sensation of acceleration and overall impact that other four-seaters are unable to achieve. Boasting an incredible 1.9s 0-60 MPH time, drivers get the experience of responsiveness that is often found only in high-end race cars. Koenigsegg appreciates diversity in its vehicles, and this is evident with the estimated 31 mileage range running purely on electric power.  
Interior Features

Koenigsegg does not just stop with uncompromising performance. The interior is fit to appeal to the most discerning tastes. Each one of the four seats has heated functionality to give every passenger personalized comfort opportunities. Combined with the automatic three-zone climate control system, creating a cabin atmosphere that caters to each individual passenger is easy in the Gemera. The Koenigsegg high-end audio system delivers music quality that will make every tune have clarity and tone that passengers will adore. For added convenience, the Gemera is also equipped with two inductive phone chargers to make quick charging hassle-free for the driver and passengers. 
Safety Features
Given the demonstrative capabilities of the Gemera, the accompanying driver-assistance technology and safety features are also top-notch. The Koenigsegg Electronic Stability Control system is unmatched in its accuracy in responding to driver inputs. Traction Control in the Gemera is also elite to go along with the rest of the package. Drivers can choose to modify the Traction Control in three different configurations to best suit their current road conditions. Koenigsegg equips the Gemera with two fire extinguishers as well as premium safety feature.  
Visit Koenigsegg Denver to Order a Koenigsegg Gemera Today
Drivers interested in learning more about or ordering a Gemera are invited to visit Koenigsegg Denver in Highlands Ranch, CO. As the only new Koenigsegg dealer in the region, we are proud to offer these awesome vehicles to our clientele. If you are ready to have the ride of a lifetime and want to bring your friends and family along for the adventure, then consider ordering a Gemera.

CONTACT US TO REQUEST MORE INFO ABOUT ORDERING A GEMERA
(Photo Credit: Koenigsegg.com)