2021 Koenigsegg Jesko Available to Order at Koenigsegg Denver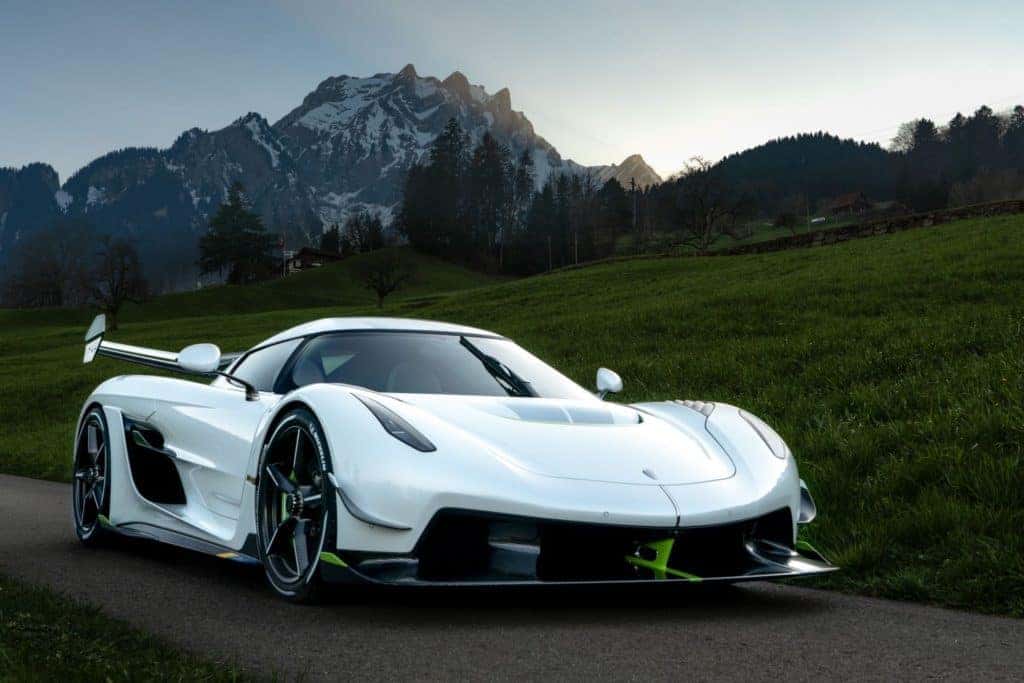 2021 Koenigsegg Jesko
BASE MSRP: from $3,000,000
Horsepower: 1280
Estimated City MPG: TBA
Estimated Highway MPG: TBA 
Introduction
Performance that far exceeds any other street-legal car is found in the 2021 Koenigsegg Jesko and Jesko Absolut. One is specifically designed to be the optimal track vehicle, while the other is built for pure speed with a stealthier design for optimal performance. No matter which model drivers get behind the wheel, they are going to be piloting the pinnacle of speed and precision.  
2021 Koenigsegg Jesko Trims
The 2021 Jesko comes in either a track-oriented trim or one that is designed for the maximum amount of speed possible. No other vehicle on the road can match the exceptional performance that the Jesko delivers, and drivers will never experience daily driving the same way again once they take one trip in this vehicle.   
2021 Koenigsegg Jesko: MSRP from $3,000,000
2021 Koenigsegg Jesko Absolut: MSRP from $3,000,000 
Performance
Backed by the twin-turbocharged 5.0L V8 engine, the 2021 Jesko has completely unmatched performance. When fueled with standard gasoline, the Jesko generates an unbelievable 1280 horsepower that leaves drivers breathless with the slightest press of the gas pedal. For the maximum speed available, filling the Jesko with E85 gasoline upgrades the top horsepower to an astounding 1600. With this much speed, a simple cruise around town is sure to be as exciting as a lap around the track. The nine-speed, multi-clutch transmission makes acceleration seamless and allows optimal control over the scintillating engine wherever the Jesko is taken.  
Interior Features 

Koenigsegg has kept the interior of the 2021 Jesko modern with high-quality materials and excellent comfort and infotainment features. All Jesko models come with standard climate control for pleasant cruising regardless of what the weather is like outside. Surrounded by fine components such as carbon fiber and leather, both the driver and passenger will feel right at home in a superior cabin design. The Jesko allows for inductive phone charging standard, as well as carries support for Apple CarPlay from its 9-inch infotainment system.  
Safety Features
Since the 2021 Koenigsegg Jesko has been designed to excel on both the track and the road, the sportscar has been equipped with modern safety equipment. Carbon ceramic brakes that are supplemented with Sport ABS allow for stopping potential that other vehicles cannot hope to achieve. With the Koenigsegg Electronic Stability system, handling the Jesko around tight corners is effortless. Getting in and out of tight parking situations is made simple with the inclusion of both front and rear parking sensors.  
Contact Koenigsegg Denver at (303) 470-7000 for more information on the 2021 Koenigsegg Jesko or Jesko Absolut. We are ready to assist you with any questions you might have regarding the Jesko or any other of the excellent Koenigsegg models we can order for you. Koenigsegg has set out to make every one of their vehicles so much more than a conventional vehicle, and the Jesko proves its superiority with an astronomical amount of performance.