2021 Koenigsegg Gemera Available to Order at Koenigsegg Denver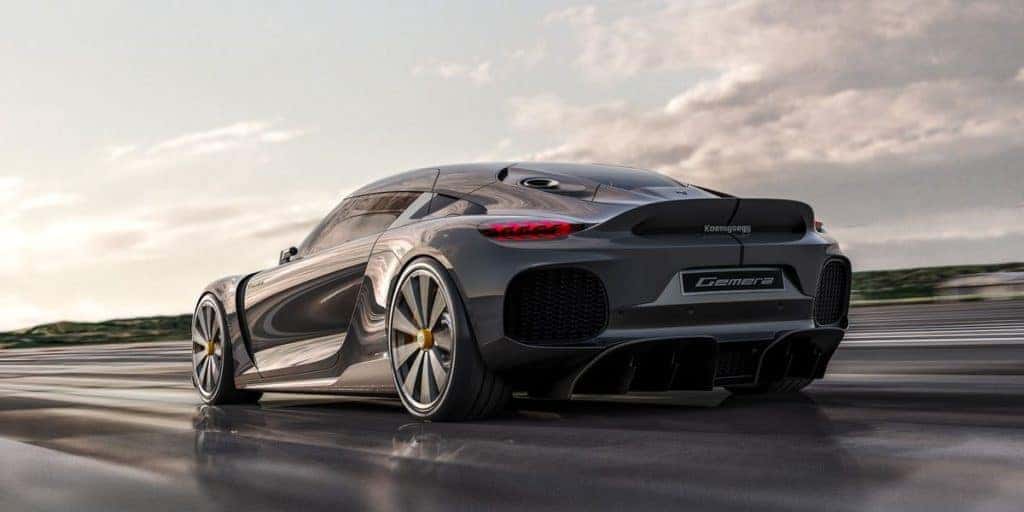 2021 Koenigsegg Gemera
BASE MSRP: TBA
Total Horsepower: 1700
Estimated City MPG: TBA
Estimated Highway MPG: TBA 
Introduction
Touted as the first-ever "Mega-GT", the 2021 Koenigsegg Gemera establishes several firsts for the titan of the industry. The hybrid powertrain introduces immense performance capability, making it ideal for drivers who want the ultimate blend of speed and efficiency. With three electric motors accompanying the traditional gas-powered engine, unrivaled speed awaits the driver of the Gemera. Another pleasant divergence from the rest of the Koenigsegg family is that the Gemera can seat four occupants comfortably as opposed to the more standard two found in the rest of the lineup.  
2021 Koenigsegg Gemera Trims
There is only one known trim level of the 2021 Koenigsegg Gemera available. However, the hypercar offers so much value and excellence in every design aspect of the vehicle. Owners of the Gemera have the ultimate four-seater on the road, with an unparalleled ride as a bonus.
2021 Koenigsegg Gemera: MSRP TBA 
Performance
There is unbridled power within the 2021 Koenigsegg Gemera. The three-cylinder traditional engine generates 600 horsepower on its own, which far outweighs its competition. The real extent of the Gemera's unrivaled speed is made possible through the hybrid nature of its design. Three electric motors work together with the gas-powered engine to give the Gemera a total horsepower of 1700. A 0-60 time of only 1.9 seconds showcases the incredible performance of the four-seater. The Gemera is also capable of going 31 miles solely on its electric power.  
Exterior & Interior Features 

Fitting with the Koenigsegg philosophy of exceptional features and design, the 2021 Gemera has the high-end luxury touches drivers come to expect from the brand. All four seats are electrically-adjustable and have heated functionality for premium comfort. Three-zone climate control also ensures occupants have their ideal ride settings for even the longest trips. Through the centralized infotainment system, a wide array of entertainment mediums can be accessed. Coupled with the premium 11-speaker sound system that comes with an additional subwoofer, amazing audio quality is created with the Gemera.  
Safety Features
Koenigsegg has made the Gemera incredibly easy to handle the incredible power the four-seater contains. Regardless of the driving challenges, the Gemera is capable of tackling the road with simplicity. Highly refined Traction and Electronic Stability Control work together to keep the driver in complete control over the vehicle even when the roads get slippery. Automatic Emergency Braking also helps keep drivers from having a potential frontal collision. The Gemera is also equipped with two fire extinguishers as a standard safety feature.  
The 2021 Koenigsegg Gemera and other excellent Koenigsegg models can only be ordered at Koenigsegg Denver in Highlands Ranch, CO.  Inquire today at (303) 470-7000 to find out how you can order this amazing hypercar. Koenigsegg vehicles are reserved for customers who enjoy the elite option, and you can experience a ride that simply cannot be found elsewhere with the Gemera or any other Koenigsegg model.